"GM's advantages in battery technology and its plans to invest $35 billion in BEVs through 20252 position it well among its competitors."
The transportation sector produces 14 percent of the world's greenhouse gas (GHG) emissions, amounting to nearly 7 gigatons of CO2 equivalent (GtCO2e) emissions annually.3 That number rises each year, making it the fastest-growing source of CO2 in the world.4
Automakers can play a key role in reversing this impact through the products they sell and their influence on the automotive supply chain. And GM, the fifth-largest global automaker by volume, has committed to going all-electric by 2035 — a commitment that we believe will prove to be crucial in driving down the auto industry's GHG emissions. While acknowledging that GM operates several other climate-positive businesses (BrightDrop, Cruise, Hydrotec, and GM Defense), in this analysis we focus solely on the anticipated future impact from sales of electrifying GM passenger vehicles.
Ebbing Emissions—and Billions in Societal Benefits
We believe that the solution to reducing Scope 3 emissions lies in battery electric vehicles (BEVs), which produce zero tailpipe emissions and are therefore a greener alternative to internal combustion engine vehicles (ICEVs). Even if we consider the emissions associated with the manufacture of BEVs and with their electricity generation,5 the lifecycle GHG footprint of a midsized BEV is 19 to 69 percent lower than that of a comparable ICEV today.6 This gap will continue to widen as the world transitions to renewable energy.7
GM's BEV mix is currently at about 3 percent.8 The company's Lordstown, Ohio, battery plant is poised to start operations in 2022, however, bringing with it scaled production of GM's Ultium batteries, so we expect its BEV sales to begin climbing in 2023. We estimate that by 2025 GM's four battery plants will generate a total capacity of at least 140 gigawatt-hours (GWh), enough to power 2 million electric vehicles. This is consistent with GM's target of more than 1 million BEV sales by 2025 and with our expectation of around 1.4 million.9 From there we model a consistently increasing BEV mix until GM reaches full BEV-only production and sales in 2035 (see figure A.1).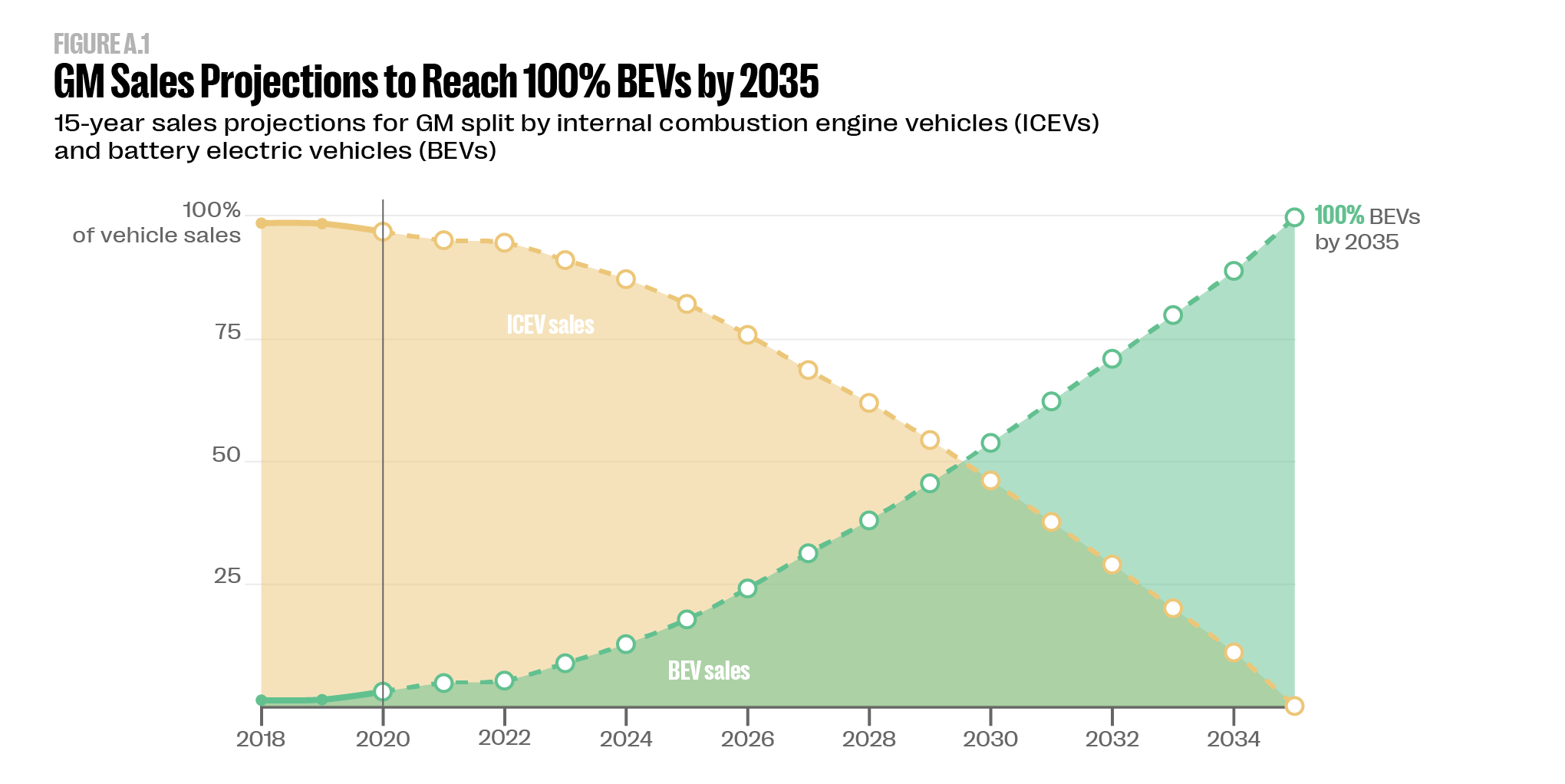 As shown in figure A.1, we have combined our per-vehicle Scope 3 emissions forecast and sales forecast to demonstrate the total potential reduction in GM's Scope 3 emissions over the coming years. We do expect rising Scope 3 emissions in the next two years due to an industrywide auto sales rebound and increasing truck mix. But from 2024 onward, as industry-unit sales level off and BEV mix ramps up, we believe GM's GHG footprint will resume its steady decline. (See the full Addendum in the Engine No. 1 GM white paper for the methodology used to estimate per-vehicle Scope 3 emissions.)
GM is looking to accelerate its long-term vision wherever it can, so it is worthwhile to examine the incremental environmental benefits of pulling forward the 100 percent BEV timeline. As a corporation that comprises only 0.1 percent of the world's market cap, GM can potentially remove 0.4 percent of the world's annual GHG emissions.10
We can also think about this impact on the environment in dollar terms. The social cost of carbon is $100 per ton of CO2 equivalent (tCO2e),11 so reducing emissions by 205 metric tons of CO2 equivalent (MtCO2e) would equate to an approximate $20 billion benefit to society each year.
This analysis is dependent on several factors, including but not limited to GM's achieving its electrification commitment, global governments' cooperating in the transition to renewable energy, and GM's suppliers' reducing the footprints of their own operations. While the transition to BEVs will not be easy or cheap,12 we cannot overstate the importance of the example GM intends to set. Only under this aggressive scenario can we see passenger vehicle emissions declining by a compound annual growth rate of 9 percent.13 We believe that only through the electrification of all new vehicle sales14 can we meet the temperature goals of the Paris Agreement (which state that global warming should ideally be limited to 1.5 degrees Celsius compared with preindustrial levels).15
And If GM Doubles Down?
Engine No. 1 applauds GM's commitment to an all-electric fleet. Over the past year, the company has increased its BEV investment from $20 billion to $35 billion, putting it on an accelerated path to reach some 50 percent BEV penetration by 2030. If GM is able to move even faster on its path to all-electric, we can estimate the additional emissions reduction that this may yield (see figure A.3). Recognizing that GM is likely to be capped by battery capacity, we have modeled the company's impact on emissions in an even more aggressive scenario: reaching BEV penetration of 25 percent by 202516 and of 100 percent by 2032. In this model we estimate that such results could save an incremental 209 MtCO2e — an equivalent of more than $20 billion in positive impact over the base case.
Accelerating the transition to BEVs is a major investment that could come with near-term impacts on profits and cash flow. We believe that companies considering further investments in BEVs should also take into account the chance such investments provide to gain market share and preserve or expand margins, in addition to their impact on eliminating significant emissions. The opportunity this presents to create long-term shareholder and societal value cannot be ignored.